Much for the food lovers out there, Korean cuisines are also one of the choices with the best menu in the market. With its delightfulness, these cuisines could not only stay in Korea, for there are more people around the globe that are also craving for these. All through the centuries and years that had passed, Korean foods had evolved along with the social and political change. With the cultural development, these cuisines had also widened when it comes to accessibility and availability.
Like the usual Asian buffet, Korean foods are usually made up of rice, vegetables and meats. All through the times, Korean dishes are really known for the side-dish prepared along with the steam-cooked short-grain rice. According to Wikipedia, the usual ingredients that are used for these foods are sesame oil, doenjang (fermented bean paste), soy sauce, salt, garlic, ginger, pepper flakes and gochujang (fermented red chili paste). However, the most used elements and preservatives actually depend on the province on where the dish was originated.
Actually, every culture has their own best food to offer to the world. As for the Koreans, here are the top ten world famous Korean foods that they have in the market:
10. Bibimbap
First in our list was once commenced by the well-known celebrity Tyra Banks as the "world's next top food." If you had already tasted it, you wouldn't help but agree more to what she said. Bibimbap is definitely and should be one of the best foods in the world. It is considered as he most nutritious and tasty dish of all time.
Bibimbap almost have every basic food you crave for: egg, meat, vegetables, spice and of course, rice. That is why it is one of the most healthful diets. If you haven't tried it yet, then go around and search for a restaurant that serves Korean foods. Prepare to be amaze.
9. Ddeokbokki
Well, another food that owns a spot here in our list as one of the world famous Korean food is another sustenance that is also very, very favorable among the local students in Korea. Yes, it is called Ddeokbokki.
Ddeokbokki is available right in front of every school in Korea. During recess or dismissal, these joins of Ddeokbokki are always bombarded by students. For some reasons, these kids would still refer Ddeokbokki being sold in the streets rather than the safe and healthier food their parents cooked for them. Well, we can't blame them. They are kids and they always want to try something new.
8. Korean fried chicken
Owning the eighth spot is a Korean version of probably KFC. Well, it also stands for KFC but with a different version – Korean Fried Chicken! (Well, we just made that up, but we're sure it works.)
Korean Fried Chicken is considered as one of the contemporary dish from these days. Let's just say that normal restaurants has the usual ingredients used for their own fried chicken. But with Korean Fried Chicken, more preservatives we're added sweet and spicy (most popular), sweet and soy sauce flavored and more. Bonchon, Google Kochon, BBQ Chicken Korea are just few of the many eateries where Korean Friend Chicken are sold.
7. Spicy cold noodle
Another obvious spicy food took a spot in our chart for the most famous Korean foods in the world. Owning number seven for our countdown today is the prominent Spicy Cold Noodle. Is it understood or do we have to state the obvious fact that it is both spicy, cold and a noodle dish?
Anyway, Spicy Cold Noodle is also called Bibim nengmyun. This dish is also suitable when you're done with the meal and still craving for some desserts. If you happen to visit any Korean Restaurant, you may try ordering for this one and judge why it is part of this chart.
6. Soon tofu stew
Are you still looking out for more? Because there's really so much more in Korean dishes that are definitely worth trying. Owning the sixth spot among top ten world famous Korean foods is the so called Soon Tofu Stew. Check out the nearest Asian restaurants there and see if this is available in their menu.
So anyway, Soon Tofu Stew consists of various ingredients aside from its preservatives. Kimchi, pork, beef, shrimp, mushrooms, squid, seafood, vegetables are just few of the elements for Soon Tofu Stew. Actually, you can also request for some add ons depending on what kind of stew you prefer.
5. Seafood pancake
Pancakes? Pancakes anyone? Well, we're half of this chart and guess what, pancake is part of it! But of course, it is a pancake from Korean versions. It is called Seafood Pancake!
Seafood Pancake is also called as Hemul Pajeon. Among the list of Korean appetizers, this dish is considered as one of the best, topping the other food introductions. Well, this pancake is fried thickly along with vegetables, shrimp, oysters, squid and more seafoods. Before trying out for the main course, this appetizer will surely lure you more to these Korean cuisines with its best taste. If you want, you may go out and try for it.
4. Samgyupsal
Can get enough more? Well, we hate to break it but there are only few more foods left that we can only tackle for this chart. There are really so much more, though. But fourth among the world famous Korean foods is Samgyupsal.
Samgyupsal is really, really, really, famous. Why? Well, simply because it is very affordable. Besides, it is really fun to it this one. Samgyupsal is actually considered as one of the best barbecue in Korea. Samgyupsal may be already tasty, but it would be more perfect with some extra add ons for it like side dishes and sauce.
3. Bulgogi
And now, we're down to the third best Korean foods in the world. It was really hard to rank these dishes for they are all really good! Third in this chart is the dish that we can call as Bulgogi. It may be available in any Korean restaurants around you because of its popularity and taste!
Some may refer Bulgogi as Beef Teriyaki but with some more boom. Depending on what you like, Bulgogi can be cooked in grilled, savory, tender, or juicy. If you are a meat lover, then this dish might also be perfect for you. If you have time, feel free to check it out!
2. Galbi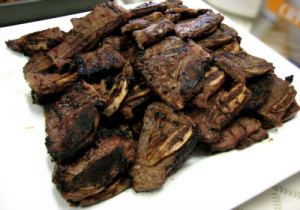 Second among the best world famous Korea food is what we can call as Galbi. Well, it's really hard to describe this one because of its delicious taste. That's why it ranked number two in this chart.
So anyway, Galbi is considered as the best among Korean barbecues. According to the website Home Cooking Diary, "this soy sauce marinated, fruity and savory grilled short ribs are the biggest treat for any Korean families as their top choice of occasional eat outs." Galbi is the choice for meat lovers since beef is really pricey in Korea. Also, when you ordered Galbi, it will come with some tasty side dishes.
1. Kimchi
And topping this chart among the most famous Korean foods around the world is none other than Kimchi. Well, it's available in almost every country around the globe. You just have to find the right restaurant, and then there, you may order as many as you can! Well, of course, as long as you can still pay for the bills.
These addicting cabbages had already and still a lot of people – not just the foodies – not just in Korea, but of many race as well. This food is one of the great prides of Korea when it comes to the best Asian cuisine.
---