Calamari and Couscous Recipe Preparation Method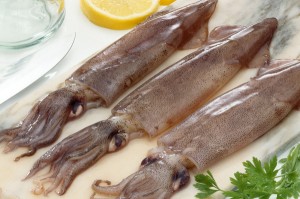 Calamari is a delicious seafood that people undeservedly do not experiment with in the domestic kitchen. In restaurants it is commonly served deep fried or grilled and often features in Italian cuisine. This calamari and couscous dinner is healthy, satisfying and quick to make, making it a great dinner time option.
Calamari
800g baby Patagonian tubes and tentacles, cleaned
2g paprika
2g smoked chilli flakes
2g dried thyme
4 cloves garlic, finely chopped
2g cayenne pepper
1g cumin seeds
2g coarse sea salt
2g white pepper
30ml olive oil
1 lemon cut into quarters
Couscous
1 cup traditional couscous
2 1/2 cups low sodium chicken stock
100g cherry tomatoes, halved
50g olives, pitted and halved
50g feta
100g red onion, thinly sliced
30ml olive oil
1 clove garlic, finely chopped
Handful of mixed fresh basil
Method
In a pestle and mortar grind all of the dry spices. Mix the dry spices with the calamari, garlic and olive oil in a mixing bowl. Allow to marinade for twenty minutes.
Meanwhile, in a roasting pan combine the tomatoes, red onion and olives with the olive oil, garlic and salt & pepper. Roast at 200 degrees Celsius for 15 minutes.
Add the hot stock to the dried couscous and cover. Allow to sit until all liquid has been absorbed.
Heat a skillet till smoking hot and add the calamari. Note that no oil is needed as this is already in the calamari marinade. Fry for three to four minutes or until tender and set aside.
Remove the tomato, onion and olives and mix with couscous.
Finally, add the feta and coarsely sliced fresh basil.
Plate couscous and calamari with a fresh slice of lemon
Author Bio
Mathew Hoepner is the head chef and small business owner of The Flying Pan, a healthy food company that specialises in home cooked meals delivered straight to residences or offices. He uses his talent to create food that is not only satisfying but also healthy and convenient.