When we hear the name Joe Manganiello, one thing quickly comes into our minds – the True Blood werewolf. Joseph Michael Manganiell was born on December 28, 1976 in Pittsburgh, Pennsylvania, USA. He was raised in Mount Lebanon and studied at Mount Lebanon High School. At his stay there, he was very active in sports and became captain in basketball, volleyball, and football teams. Joe had his first big job in acting as Flash Thompson in the Spider-Man film series. He had also roles in various television shows such as ER, How I Met Your Mother, and One Tree Hill. His breakout role was none other than AlcideHerveauxin True Blood, an HBO hit television series.Joe was also known for his participation in big films such as Magic Mike, What to Expect When You're Expecting and Sabotage.
I may have said a lot already but, believe me, there are still a lot of things to know about Joe. His journey to fame was not that easy, and he's not the average Joe (pun intended) we think he is. For all his fans out there, here are 10 fast facts about our Joe Manganiello.
10. Quite the narrator
Joe Manganiello actually narrated the Hurog Duology – Dragon Bones, the first book in the series and Dragon Blood the second and last book. These books were written by #1 New York Time Bestselling Author Patricia Briggs and were produced by Buzzy Multimedia. The books themselves had received high rating from book reviewers. With a perfect plot created by the one of the best authors and whole story being narrated by the voice of Joe Manganiello, everyone who will be listening to the audios is guaranteed to have an awesome and unique fantasy experience.
9. He definitely adds the spice to food
Apparently, Joe had endorsed the Taco Bell Tortada on various commercials in 2010. Priced at $3.29, the Tortada came in two flavors – Bacon Ranch Tortada and Grilled Chicken Tortada. The items garnered great ratings from foodies. However, this heavenly cross between a Torta and Tostada was offered for a limited time only. But for sure, Joe didn't grab any of the customer's sandwich – I mean – Tortada during the time these were sold at Taco Bell. But who knows, maybe some customers offered Joe a Tortada in exchange for a photo with him. Joe loves the Taco Bell Tortada.
8. Joe was named one of the world's 25 Fittest Guys of 2011.
In 2011, fans (pretty much women) all over the globe waited for the release of the names of the world's 25 Fittest Guys of 2011. Joe, being a favorite True Blood werewolf was required to have those bulging biceps and awesome abs. FYI to those who are not watching True Blood, most of the actors engaged in revealing scenes so they had to have that perfect physique. For this, Joe worked out twice a day for at least three days a week and did cardio and strength training for another 3 days. That, ladies and gentlemen, is how Joe became one of the world's 25 Fittest Guys of 2011.
7. Joe was a former bodyguard of actor Tyrese Gibson
When Joe graduated from Carnegie School of Drama, the school where he wrote, produced and acted in a student film entitled Out of Courage 2: Our for Vengeance, he screen-tested alongside James Franco for his part in Spider-man which he got. However, his work there didn't start there immediately so he had to find other sources of income. Because of this, he applied and became the bodyguard of actor and singer Tyrese Gibson. He also became a bouncer at a Mexican rock bar and an afterhours club. With that great body and his massive height, I guess he worked well as a bodyguard and bouncer.
6. He was honored as the Grand Marshall.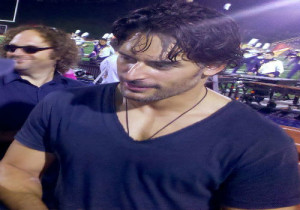 Joe was honored as the Grand Marshall of the 2010 Pittsburgh Macy's Celebrate the Season Parade, one of the traditional parades held in Downtown Pittsburgh held on a Saturday after Thanksgiving day. It is a little version of the bigger Celebrate the Season Parade held in New York City. Joe, who was born in Pittsburgh, participated in this event as Grand Marshal. If you're wondering what a Grand Marshall is, basically, it is a distinguished celebrity who leads the parade and, at times, is the master of the ceremony. Everybody loves parades, and even more if Joe is the one leading it.
5. Joe trained as a boxer
Not only that he has good skills in basketball, volleyball and football; he also trained as a boxer. Even more, he became a sparring partner of an NHL player. In an interview, he mentioned that he trains in a boxing gym owned by Bob Dylan whenever he is in L.A. He also mentioned that he always travels a lot because of work so he usually calls set up workouts. To the fans out there who would want to rub elbows with Joe, why not try to be his sparring partner? I bet gym moments with him would really be a knockout – literally.
4. Not afraid to get down and dirty
There were four years where Joe had to work in a construction company. It was actually one of his darkest days as he battled addiction to alcohol and drugs. He told Men's Health Magazine about his work. "I left the business and worked in construction for a masonry company: getting up at 6am, shovelling sand and mixing cement till 4pm every day in the back of a truck with four guys, where I was the only one who could speak English. I had a huge beard and I grew my hair out and wore it in this big samurai top-knot." After some hard thinking and realizations, Joe won his battle against substance abuse.
3. He gets paid to dress up like Captain Morgan
With a 6'5" height and a brusque body built, Joe used to dress up like Captain Morgan in bars at Pittsburgh. In the web, there are photos of Joe dressed up as Captain Morgan along with his Morganettes and sober and drunk people and everyone who wanted a photo with the captain. Yes. Joe gets paid by doing this. Imagine how lucky he was wearing that awesome costume and of course, being with those sexy Morganettes. Now that's a fantastic fact.
2. Multi-talented AND good looking
Aside from acting, Joe is also an author of a book entitled Evolution. Another one of his talents was in music. Joe mentioned in an interview that he was huge music fan. He also mentioned that most of his friends were musicians. He sang as back-up vocals for the Used in their song Hospital in their album Lies for the Liars. (I tried to listen to it again and it sounds like he did the Hip Hip Hooray.) He also sang some voice over for the band D.R.U.G.S. Acting, directing, producing, singing – what else can't Joe do? Aside from being very talented, Joe is also good-looking – and has popping abs.
1. It was an act from the beginning
Joe always knew that being in sports would not fulfill him. In football, he tore his MCL and was sent to a rehab. When he came back, he played basketball and broke his elbow in the first game. It was there where he realized that the universe was trying to tell him to do something else. He then tried to borrow cameras from their High School TV studio and directed and filmed his friends. He even made a film with his friends to get extra credit in Chemistry class. This marked the beginning of his interest in the acting industry which he mentioned was his first love.
---