Kate Middleton loves gorgeous, glossy mane which she likes complementing with a wide array of fascinators and hats. In the build up to the wedding (which is considered to be the wedding of the century) where Philip Treacy hat was extensively used to complete the attire, we are assured if seeing some of the best fascinators of the world from the princess to be.
Kate Middleton, the now princesses, has a long history of brunette hair and she often complements it with fascinating hair accessories .She has a real taste of fashion and she really rocks everyone especially when she displays her feathery fascinator and the arrow-adorned hat on her noggin. She was very choosy on the kind of fascinators. In fact she opted to core-design the headpieces of her bridesmaids. Our article tries to explore some of the most awesome fascinators of Kate .So if you have been anticipating knowing some of them, here is a dozen of Kate's fiercest fascinators and hats.
10. Pink Perfection Fascinator
This hair clip from Debut contain a cluster of loops with feather ascents .It is a handmade design from top by a renowned designer which comes in pink with woven sin may-top and satin band. It is elegantly detailed with layers of velvet petals plus some hand applied gem stones. During the wedding, she classically finished her outfit with this lovely pill box fascinator .The fascinator had an incredible rich berry feather that added a chic, feminine touch. She wore this fascinator in most of her outings.
9. Pretty in Peach Fascinator
This is a simple bow meant to add a splash of colour to thick curly hair. It has four colors and a feather fascinator making it appropriate for classic weddings and great events.
8. Radiant in White Fascinator
Kate had something in mind when she chose this gorgeous white fascinator. She wanted to start a peaceful new life .In this periwinkle and white fascinator, Kate looked stunning pretty and she wore it alongside some of the best accessories in the world; thanks to her long time designer.
7. Blue Jubilee Fascinator
Blue was her colour .No wonder she choose it on this life defining day to mark the beginning of a new life-marriage as a princess. During her wedding day, nobody expected her to choose blue. Blue was never regarded as a captivating colour. However, to the shock of many, she classically topped off her blue-and-ivory ensemble which she stylishly coordinated with floral hat. Indeed, she did things her own way, but with characteristic classic selection. This floral hat looked exactly the same as that Kate's mother later borrowed a year later to attend Ascot.
6. Great in Gray Fascinator
While most of the ladies we know spend long weekend snuggling indoors scoffing lamb, Kate had other ideas. She decided to go for a jam packed that was characterized by full of official events and assembles. This was symbolically meant to show the power of a woman in a society. It had a strong touch and I guess that was the reason she chose it.
5. Happy Blues Fascinator
Kate's photos are some of the best I have ever seen. This is simply because she knew how play around with colors. Happy blue fascinator was originally made with various shades of blue but later designers added some teal colored beads in to tie in Kate's fab shoes with her dress.
4. Rainy Day Black Fascinator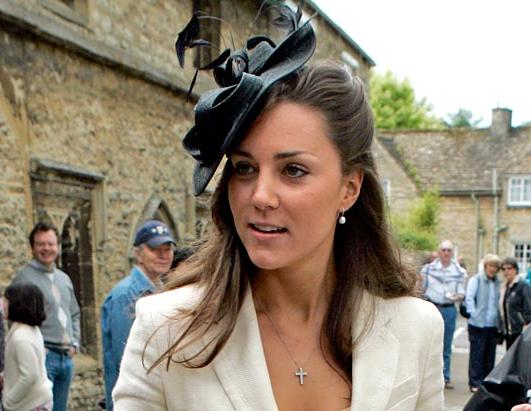 The bride-to-be (who knew that this was probably her best day in life), showed off her jaunty style with this rainy day black fascinator. This was an idea of a close friend Harry Meade and Roise Bradford in Northleach, Gloucestershire. This was specifically designed to give black a different test.
3. Tantamount in Tan Fascinator
This tan fascinator had a silver metal clip and is adorned by a variety of tan feathers and matching curled tan mesh. Kate, a cute princess to be, used the tantamount in tan fascinator to classically showcase her ability to link colour with events.
2. Mellow Yellow Fascinator
This was exclusively from her long time designer and it was meant to compliment her eyes and give them the outstanding beauty they deserved. This elegant headband was designed with some monochrome feathers and a slim satin band. It has a yellow headband .In addition it has a yellow and red feather design with beaded quill trim. So if you have been looking for this "class of its own fascinator", just visit the Amazon website for more information.
1. Working the Beige Fascinator
Wow! Kate is one of the most influential women in the world. She needed to create the 'great' impression. So she decided to go for the infamous "Working the Beige Fascinator" which is considered one of the best in the world.
---