Men and women who get tangled in the world of entertainment sports are near to being sadistically tough considering that it's their way of living, getting paid for and making other people have fun. But, these type of sports had always attracted the public and to think, their even more sadistic than the superstars.
But, what attracted the fans from these superstars in the WWE world is their capability to become the best. Of course, provided with the ranking that was already given by the fans and WWE's management, choosing the athlete that have the complete package is made easier. However, ranking the complete WWE superstar is difficult considering that there are too many of them that stand out amongst the others and some of them are just best on two or three things after several years in the business.
In this case, listing the top 10 of WWE's complete superstar won't be an easy task. True, that there are well known and established WWE superstars that are worthy of the rank but some attribute should also be taken into account therefore some of them have been dramatically cut off from the list. These attributes can be considered as on and off stage performance or drama, microphone or speech performance, audience charisma and so on. Below are the top 10 most complete superstars in WWE.
10. Kurt Angle
Angle is one of the most fascinating WWE superstars that turned the whole world to become his fan even before becoming the 1996's Olympic Wrestler Gold Medalist and playing as an amateur wrestler in WWE. He is known for his signature moves such as Ankle Lock and Angle Slam, becomes the European and Hardcore Champion, World Heavyweight, King of the ring in 2000, WWE Champion, Tag Team champion and became the General Manager of SmackDown. His wrestling and competitive skills are unparallel making him one of the best in the business. After spending 7 years in WWE, Angle manages to mark his name in the hall of fame.
9. CM Punk
Known for his extravagant pipe bomb explosion, verbal skills and prolific performance in WWE, Punk had established himself as one of the complete superstar in the wrestling world. After taking a couple of championship belts and defeating John Cena and many other elite wrestlers, Punk carved his name in the walls of Champions. His popularity is still skyrocketing in this entertainment world and noticeably, Punk is in favor of all the attention he's getting. In addition to his success, Punk is also passionate about helping rookies but also displaying a fearless attitude in the ring while taunting everyone with his verbal bashes.
8. Eddie Guerrero
From El Paso, Texas, holding 8 championship and WWE Hall of Fame Inductee in 2006, Eddie Guerrero had become the hero of every WWE fans, elite superstars and even rookies. Eddie is well known for his tricks where at one point, everyone will trust and adore his nobleness, courage, loyalty and determination and on other times, hate him for his decisions. Although his career ended when he was announced dead in 2005, WWE fans will always remember his fight with Brook that earned him a Championship title and his famous Viva La Raza and Latino Heat battle cries along with his frog leaps and constant guidance to his nephew Chavo Guerrero.
7. Edge
From being a shy-type high school student to one of the most celebrated and idolized tag-team hero, Edge proved that everyone can make their dreams come true. Playing alongside his best friend Christian as a tag-team duo, they achieved different championship belts and became known for their TLC (Tables, Ladder and Chairs) stunts. However, Edge's career didn't revolve around being with his buddy Christian but also as a solo WWE superstar who claimed 31 titles in the WWE Universe. Although his career stopped due to injury, it is sure that he'll be back on the ring and regain his stardom as one of the elite and superstars.
6. Bret Hart
Known for his Sharpshooter signature move, seven championship titles and the general manager of Raw, Bret Hart is one of the most iconic elite superstars in the WWE Universe. Armed with his stunning wrestling skills, audience appeal and influence to capture the attention through his speeches, Hart is truly a distinguishable and complete WWE superstar that is worth to mention. Being in the business for more than a decade, Bret got all the fame he wanted as early as The Hart Foundation in 1991 and continued until the rivalry between him and Shawn Michaels ended up in the most amazing match Iron Man Match and The Montreal Screwjob.
5. The Rock
The endless achievements of Dwayne Johnson or The Rock skyrocketed from being an elite rookie to the famous superstar in Hollywood movies. The Rock is simply too stunning that his charisma, wrestling skill and acting skills have been recognized all over the world thus making him one of the highest paid wrestler of all time. Aside from his booming career in the movie world, he was also famous for his signature moves such as People's elbow and Rock bottom. He was also recognized being a champion of six different titles and matches. His most recent appearance was one of the most awaited event called The Show of Shows in WrestleMania.
4. Macho Man Randy Savage
It won't do any justice if Spiderman remained in the WWE ring in 1973 while having that "macho" physic that everyone would least expect. Of course, it did happen because Macho Man Randy Savage took his debut as The Spider, which helped started his career as a professional WWE wrestler. He is considered as a complete superstar because of his skills and profound performance in the ring. He was also recognized in his speeches in the microphone and playing along WWE's greatest wresters such as Hogan and Flair. He won four championship titles and married his manager in 1991 SummerSlam.
3. Stone Cold Steve Austin
When the sound of shattering glass breaks out in the entire dome since 1996, it's all known that Stone Cold Steve Austin is coming out to raise war against all those who opposes him. Not afraid to put up a fight, his wrestling and microphone skills were undoubtedly one of the best there ever was, causing commotions to his fans and enemies to widen their eyes. Known for his Stone Cold Stunner signature move and nine championship titles, Austin is just one heck of a blue collar royalty since his debut as a member of USWA in 1990 and a complete superstar in the WWE Universe.
2. Shawn Michaels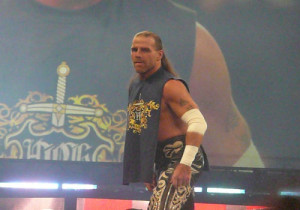 One of the most versatile wrestler, entertainer, cocky rock star attitude and complete superstar in WWE that ranked second in this list is Shawn Michaels who was undoubtedly the best in the entertainment sports. Known for his six chin music and notorious matches that sometimes ended unsuccessful, Shawn or best known as HBK enthralled everyone by his performance. Several incidents took place while performing which led him to suffer several injuries which included his back injury made HBK leave WWE for four years. After having the best match of his life in Wrestle Mania 16 against The Phenom, he retired.
1 .Chris Jericho
Chris Jericho is the only man in the entertainment sport that would make any fan go banana. And there is no doubt that he is worthy of the first spot in the most complete superstar. Chris started his career as early as 19 years old while competing in different countries to add his knowledge, skills and techniques that he found useful during his matches. His career always skyrockets from one match after another thus gaining him several championship titles and popularizing his special moves such as Walls of Jericho and the Code breaker. He's charismatic in everyway and technically skillful when it comes to matches.
---